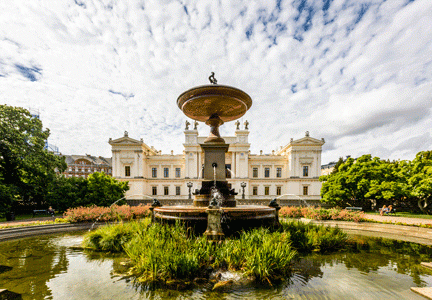 Image property of Lund University
In 2018, both Lund University and Lund municipality have implemented Inspera Assessment as their digital examination platform. As a result, pupils and students can conduct digital examinations from primary school all the way to the highest degrees at university.
Lund is one of the oldest cities in Scandinavia, characterised by its university. 115 000 people live in Lund, and more than 50 000 of them are students or university staff. The largest employers are Skåne University Hospital, Lund University, and Lund Municipality.
Lund University was founded in 1666 and is the highest-ranked university in Sweden in the QS Ranking 2019. It is also consistently ranked among the world's top 100 universities in world university rankings. Lund is also the most popular Swedish university for international students applying to Swedish universities (national admissions statistics). The University has a strong research community and more than 40 000 students based in Lund, Helsingborg and Malmö.                  
After having tested Inspera at selected faculties for a year the University decided for a full roll-out on all faculties from October 2017. As Vice-Chancellor Torbjörn von Schantz wrote on his blog after having decided for Inspera:
"The benefits of digital exams are that it frees up time; partly, the students get more time to write and it is easier to edit sentences and parts [of their submission], and the teachers get a more effective grading process when the answers come in a standardized and well-placed form. The system works for both text subjects and non-text subjects and there are great opportunities to experiment with different types of examinations. Digital examinations also facilitate students' demands for anonymous exams."
Note: own translation from the original post of Mr. Torbjörn von Schantz's blog written in Swedish.
The focus on education is also evident within the municipality-driven upper secondary schools. As Lund is recognised as an educational hub, all the 33 surrounding municipalities in Skåne send their upper secondary pupils to Lund. The municipality of Lund decided in January 2018 to tender for a digital exam solution for all of Lund's primary, secondary, upper secondary and further education institutions. All-in-all, these include 13 000 pupils and 1 300 staff. Inspera was awarded the contract and a full roll-out started in Spring 2018.
As a result of Lund's effort in harmonising the exam systems pupils and students can enjoy the benefits of consistency by using the same tool for examination from primary school all the way to the highest degrees at university.
Written by Jo Bowden
July 25, 2018
---