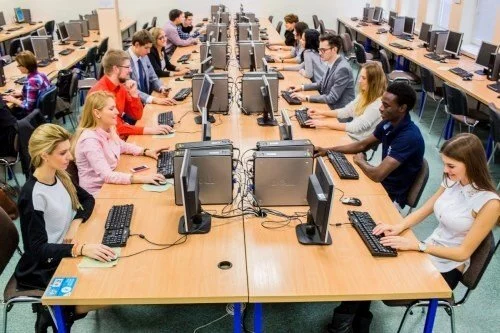 Since 2014, Kozminski University has been fully dedicated to improve their teaching and learning by using educational technology. In order to achieve this objective, the institution introduced digital examinations with Inspera Assessment in 2017. With the help of Valeriia Gorlushko, Head of Examination Centre at Kozminski, in this post we will discuss the benefits of implementing digital exams at Kozminski, what the implementation process was like and the main outcomes obtained from the project.
Valeriia Gorlushko, Head of Examination Centre at Kozminski University, at a computer lab where the exams are held
About Kozminski University
Kozminski University (KU), founded in 1993, is a private business school based in Warsaw, Poland. The business school has today 8 000 students and 3 faculties: Management, Law, and Finance and Accounting. KU has 60 000 alumni, and a high percentage of international students and staff, from over 75 countries.
Kozminski has excellent results in national and private educational rankings: it is the first-ranked private polish university and the highest ranked business school in Central and Eastern Europe. Thanks to the high quality of its programs and services, the institution has obtained both Polish and international recognition, with the prestigious "Triple Crown" of Accreditations (EQUIS, AMBA and AACSB).
Kozminski University is ranked on the 43rd position on Financial Times 2018 ranking.
Kozminski University Campus in Warsaw
KU's principal objectives in order to adopt Inspera Assessment
In 2014, Kozminski University established a dedicated Examination Centre to promote and support the use of technology in the institution. Valeriia Gorlushko, who has been in charge of the process of selecting and implementing a platform for digital exams, explains which were the two principal drivers to introduce online assessment at KU: the university sought to reduce the time spent on marking and grading; and, it was looking for improving the readability of exam submissions to open-ended questions.
Kozminski's principal needs were to reduce the time spent on marking and grading, and to improve the readability of exam submissions.
To that end, Kozminski University first trialled another online assessment tool between 2014 and 2016. After having tried a digital platform, the faculty members did not want to return to paper and pen examinations. Therefore, the institution started looking for an improved EdTech solution that would best suit the educational programme of the university.
Gorlushko adds that "those improvements the university were looking for focused on administrative benefits of workflow optimisation, and required a provider with scaling capabilities in product and training. After a thorough research of competitors, we realised Inspera Assessment would be a perfect fit, with its features and layout." Another critical factor that convinced KU to choose Inspera Assessment was the wide range of question types that enabled KU to digitise subjects such as Finance and Accounting.
Before reaching an agreement of collaboration, our partner company PCG Academia assisted us in adapting the Inspera Assessment product to the Polish market, for example translating the captions inside the platform. In September 2017, Kozminski University and Inspera signed a contract, and started working on the technical integrations oriented towards the optimisation of the administrative workflow.
The benefits of digital assessment at a business school
Business schools often have specific needs that might differ from other types of educational institutions; likewise, the advantages obtained from online examinations can vary. In agreement with Kozminski University, these are the benefits that each key actor at Kozminski aimed to obtain from our digital platform:
Today's students demand a fair and inclusive assessment. Digital exams help us decrease cheating and improve the student learning outcomes through faster marking, grading and feedback processes.
Academic staff also benefit from decreasing the time needed for marking assessments and not having to deal with illegible handwriting. They also find a wide range of questions sets, enabling them to create more diverse types of questions and keep the exams saved for future use. Kozminski claims that even the most senior professors want e-exams once the faculties have tried them.
Through Inspera Assessment, administrative staff at Kozminski have access to a scalable product that optimises human resources costs and enables independent e-exam delivery, as well as facilitates the Bring Your Own Device (BYOD) practice.
After trying digital assessment, staff and students don't want to return to paper and pen examinations.
Learn more?
Do you want to learn more about how our customers are transitioning to online assessment? Read about their unique journeys to inclusive, fair and relevant assessment in our 
Customer Case Studies
.
Written by Jo Bowden
March 14, 2019
---