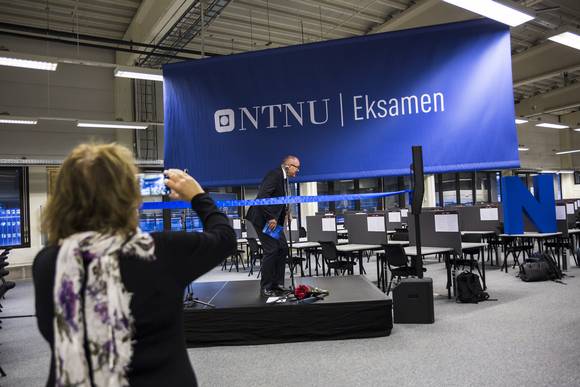 The Norwegian University of Science and Technology's "Exam Factory" had its official opening on 16th November 2018 in the old Trondheim Post Terminal. During the first round of examinations, 63 bioengineers took their exam using Inspera Assessment.
Rector Gunnar Bovim in the official opening of NTNU's Exam Factory

(Image: property of NTNU)
NTNU's "eksamensfabrikk" is in fact Norway's largest examination room. Thanks to its opening, it is expected that on 28th November the estimated number of 2,800 students will have their exams in just one day.
The day of the exam
According to the university's procedure followed during the day of the exam, students are asked  to first install the Inspera Safe Exam Browser (i.e. Inspera SEB) on their devices, so that they don't have access to the Internet or social media. Then, students can log into Inspera Assessment with their unique username and password, and take the exam. Finally, once they have submitted it, the students will be able to have access to their prior device configurations, including the Internet.
2800 students will take their exam in the old Trondheim Post Terminal (Image: property of NTNU)
NTNU's collaboration with Inspera
The Norwegian University of Science and Technology has been using Inspera Assessment's solution for digital examinations since 2016. The university offers digital lab-based exams, home-based exams, the grading reports of the bachelor's and master's theses assignments. In the past two years, NTNU has been working hard in order to achieve their strategic objectives regarding the digitisation of exams. According to Øyvind Hauge, NTNU's Project Manager for Digital Assessments, there has been an increase from 3% to 30% in digital exams in relation to the total number of exams.
Transforming assessment practices
Moreover, the Rector Gunnar Bovim strongly believes that having a permanent local properly-equipped digital infrastructure can help NTNU make a big turning point in its assessment practices. Both Bovim and Hauge agree that the digitisation of educational evaluations may require a thorough reconsideration of the assessment system in general and in particular, how the learning outcomes are assessed. Therefore, NTNU is open to research in this area so that the educators could better distinguish between what students need and don't need to learn.
To conclude, Norges Teknisk-Naturvitenskapelige Universitet is continuously evaluating and enhancing its processes and tools related to digital assessment. Without doubt, the university has still much to do to achieve its digitisation goals, but we can see their strong commitment to educational innovation, making NTNU a leader in the sector, not only in Norway, but globally.
If you are interested in the original article covering the event, you can keep reading about the official opening of NTNU's Exam Factory.
Learn More?
If want to learn more about the Norwegian University of Science and Technology's experience with Inspera Assessment, check out our Case Study on NTNU. Do you want to learn more about how our customers are transitioning to online assessment? Read about their unique journeys to inclusive, fair and relevant assessment in our Customer Case Studies.
Written by Jo Bowden
November 27, 2018
---