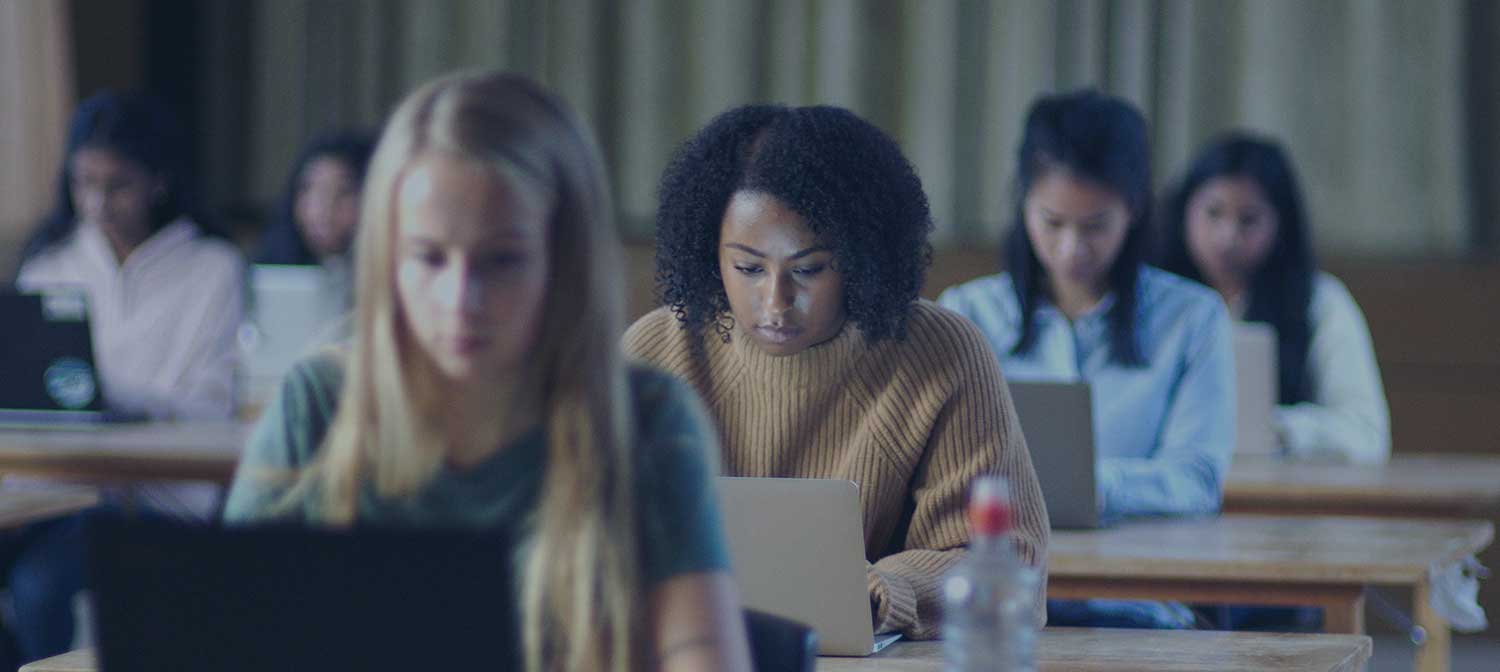 The development of digital technologies has fundamentally changed the way we live, work, and learn. In the last decade, the number of students taking online courses and the number of universities running such courses have significantly increased. The growth of online learning further accelerated during the COVID-19 pandemic when more than 1.5 billion students experienced some type of remote learning and assessment1. In particular, increased remote or hybrid learning setups have led institutions to consider implementing digital assessment. As well as affording the institution significant flexibility with administration and delivery of exams, digital assessment is an opportunity to improve the student experience by increasing engagement and facilitating authenticity. But what is authentic assessment and how does it relate to student satisfaction?
Student experience and assessment
Assessment is an essential part of the student experience and is one of the main influencing factors on the student's approach to learning2. The design and delivery of the assessments are also one of the most challenging aspects of the educational process. For instance, in the UK, according to the national student survey3 (NSS), only 73% of students in 2020 found the assessment and feedback in their universities satisfactory. It is clear that improving students' perception of the assessment process will go a long way towards increasing overall student satisfaction within higher education.
Authentic assessment
Walvoord4 defines assessment as "the systematic collection of indicative information about student learning, using the time, knowledge, expertise, and resources available, to inform decisions that affect student learning". Extensive evidence indicates that learner-centred assessment is a highly relevant practice in higher education pedagogy. This is because such assessments encourage the students to fully engage with meaningful, relevant tasks by setting the stage for them to develop transferable higher-order cognitive skills.
Depending on the subject matter the assessments might be in different forms ranging from multiple-choice to more sophisticated formats which require, for example, adding multimedia components and interacting with other software packages and online platforms.
Overwhelming evidence supports the pedagogical advantages of authentic assessment5. Authentic assessments often include activities that are designed to actively engage students with the learning process by using real-life situations5. This helps students relate their prior knowledge and skills to the problem at hand and allows the development of diverse approaches and solutions.
Online authentic assessment 
Online assessment provides students with the opportunity to approach evaluative activities using a variety of different tools and perspectives such as digital resources or collaboration with peers. The authenticity of assessments can be also enhanced by including a range of supplementary materials including text, images, video, audio, approved websites, and software packages. Importantly, authentic assessment can be integrated and applied across different subject areas and lead beyond domain-specific outcomes.
Emerging digital technologies such as Artificial Intelligence, and Immersive technologies (AR, VR and XR), as well as social media platforms also provide a fertile ground for the creation of even more contemporary and relevant assessments. Plus, an authentic assessment process gives universities the necessary evidence to measure and monitor student learning outcomes.
Digital assessment technology
Agile multifaceted online platforms are therefore required to enable scalable and seamless planning, designing, delivering, and marking of assessments, within the framework of the rules and regulations in the universities8.  Such platforms also enable both the students and educators to adopt innovative approaches based on creative media. Digital technologies further facilitate online peer and self-assessment, efficient submission, transparent marking practice, moderation, and data storage that improve the efficiency of the assessment process. What's more, evidence shows that most students prefer to conveniently choose the timing and location of their assessments6.
The future of authentic digital assessment 
Assessment is an essential part of the learning cycle. Assessment design including outcomes, strategies, and content is at the core of the learning process and must be jointly performed in coherence with all other aspects of the learning experience. With many courses now having a strong focus on digital skills, it makes sense that assessment practices align with this. Digital assessment platforms allow educators to create modern, pedagogically relevant assessments that increase engagement in the learning process by setting the stage for the student to develop transferable higher-order cognitive skills. Meanwhile, efficient and transparent marking enables a better understanding of learning progress and facilitates a data-driven approach to improving individual student outcomes or the programme as a whole.
Inspera Assessment supports the entire examination cycle, on-site or remote, so that institutions can seamlessly plan, design, deliver and mark digital assessments. With over 20 question types and the ability to include a wide range of stimulus material, you can author assessments that reflect the learning outcomes of 21st-century courses. You can choose the right level of security to meet your needs and Inspera's digitally robust platforms ensure that, even during high-volume assessments or with unreliable internet connectivity, students can continue with their exams. Afterwards, efficient marking workflows allow results to be returned – and ratified, if necessary – more quickly.
If you'd like to find out more about how Inspera can support you in delivering assessments that meet the needs of today's learners, please get in touch with our team.
View the student experience toolkit
About the author
Dr. Keivan Navaie (SFHEA, FIET) is a reader at the School of Computing and Communications, Lancaster University, Lancaster, UK, with more than 10 years of teaching experience in the UK higher education sector.
Written by Dr. Keivan Navaie
July 1, 2021
---