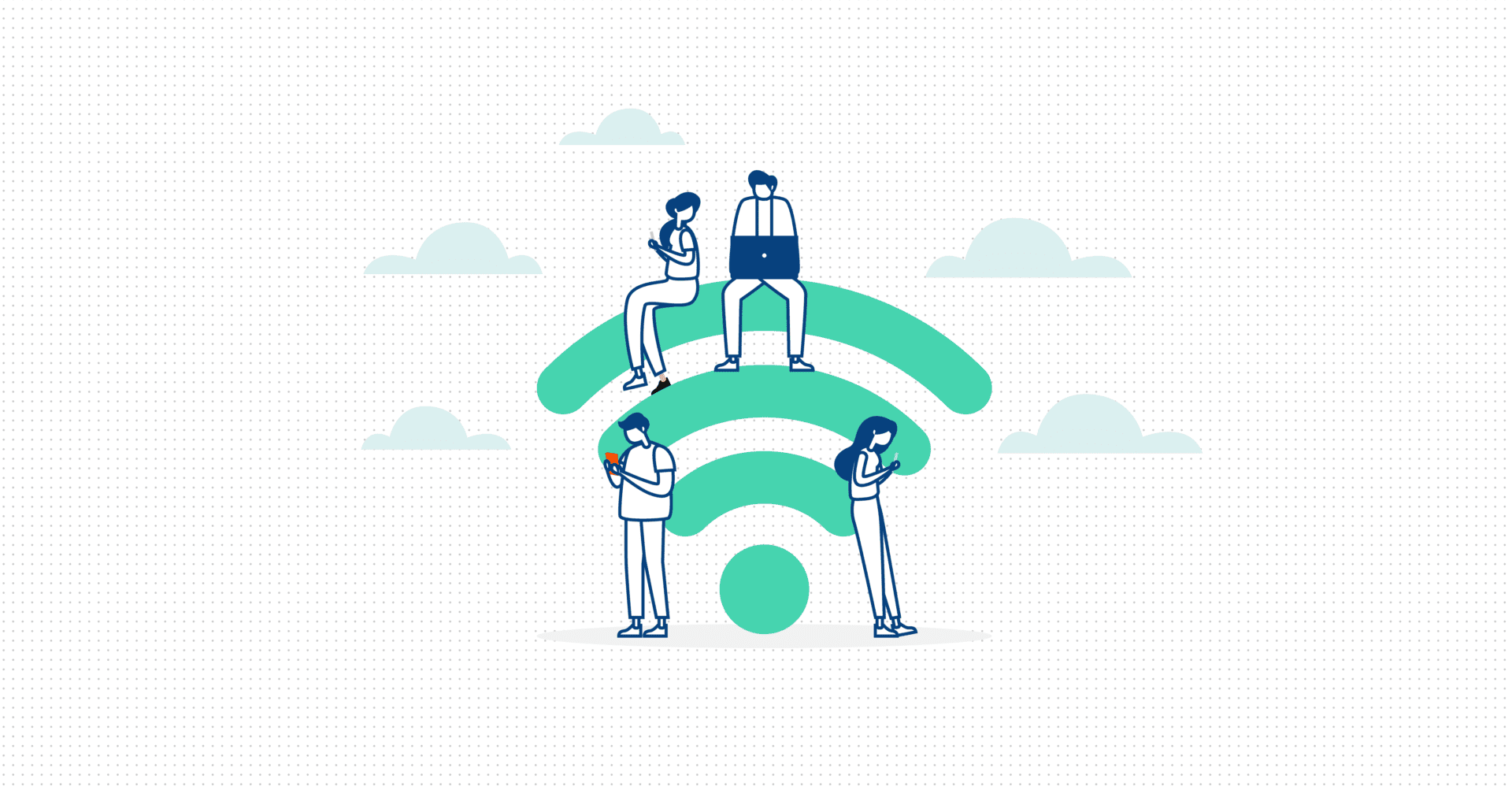 What's the difference between digital, online and remote online assessments?
One of the first concerns since digital and online assessment became more widespread, has been around internet connectivity. In a high-stakes and high-stress environment, internet connectivity is key.
What happens if a student loses connection mid-assessment? Isn't it risky, particularly when it comes to high-stakes summative assessments, to rely on a medium that can be impacted by so many elements? How does it impact the overall student experience?
While a stable and fast internet connection can make a difference to the student experience, these days it is certainly not critical to running online assessments. And the benefits of online exams outweigh any potential downsides of a volatile internet connection.
Benefits of online assessments and the challenge of internet connectivity
There is no doubt that online assessments have many benefits for both academic staff and students.
For example, remote online assessments bring much-needed flexibility to students and faculty. Rather than traveling to exam halls, students can take their assessments in the comfort of their own home. Likewise, faculty can save the time and budget involved with commuting.
Online assessments also reduce the administrative burden connected to paper and pen exams and are far more sustainable. Plus, today's students are familiar with using the computer in their everyday life.
However, an unstable internet connection has previously prevented students and academic staff from fully taking advantage of these benefits because it can negatively impact the overall student experience.
For example, slow internet loading times caused by a poor connection can make it difficult for students to navigate through the assessment. A drop in connection can cause work to be lost or incomplete. Then there is the student frustration that happens as a result of internet issues that can impact performance during the assessment.
There are several ways to mitigate the risk of a poor internet connection, which – if implemented correctly – reduce the risk of student anxiety or – worse still – an assessment that can't be submitted.
How to mitigate the risk of a bad internet connection during your online assessments
When you are planning to conduct online assessments, unreliable internet connectivity is one of the elements you should anticipate. To address the potential issues and mitigate the risks, academic institutions should:
Understand what impacts the students' internet connection and set guidelines
Choose the right technology
Develop strategies to ensure digital equality.
Let's look at these in more detail…

1. Understand what impacts the students' internet connection and set guidelines
To understand how internet connectivity impacts remote online assessments, academic staff first need to understand a bit about the factors that can cause a bad connection. You can then use that understanding to plan your assessments and provide clear guidelines for students.
Some of the elements to consider here are:
Distance to the router –  It's always a good idea to suggest to your students to move closer to the router. The further they are, the weaker the WiFi signal will be, which can impact the connection quality.
Obstructions – closely connected to distance are the possible obstacles that weaken the WiFi signal. Too many walls between the student's computer and the router or big objects in the way can weaken WiFi signals and reduce internet speed.
Bandwidth consideration – elements such as time of day and how many students are doing the assessment can impact the available internet bandwidth. A good practice is running a test beforehand at the same time of day as your scheduled test.
Device capability – the type and age of the computer will also vary from student to student and can impact speed. In your guidelines, be clear on what needs to happen before the test to ensure a device is compatible with your chosen assessment platform.
Another good practice is to suggest that students test their internet connectivity prior to the exam. There are many tools out there that provide free testing, for example, SpeedTest, and Broadband Speed Checker.
These same considerations are important for on-campus assessments too. Albeit that the distance to the router, obstructions and bandwidth are all within your control and not left to the student in this case.

2. Choose the right technology
Likely, the most important step for any educational institution is to ensure you choose the right digital and online assessment platform. The right technology will provide much-needed safeguards that will ensure the best student experience regardless of their internet connection.
The following three technical requirements are a must:
Auto-saving mode – one of the most important elements to look for is the ability of the platform to continuously save progress in the 'background'. This enables the students and the markers to save their work when taking or grading the exam. Something that came in particularly handy for Inspera client Leeds Beckett University when their internet connection was unreliable.
Ability to work offline and seamless sync – platforms such as Inspera Assessment allow students to continue working even when the connection drops. This is particularly useful for exams. When the internet connection is re-established, the work done offline will automatically be uploaded and synchronize with the platform.
Failsafe for submitting student exams – it's important to find a platform that enables the student to download a record of their exam responses in case the student is offline when the exam ends. For example, with Inspera, students can download a file containing their submission to be sent to you once they regain their internet connection. The file is encrypted so you can be sure that it hasn't been edited once a student's assessment time has expired.

3. Develop strategies to ensure digital equality
One of the biggest benefits of digital and online assessment is the ability to level the playing field for all students. Online assessment removes barriers to getting an education. No one should be denied their education just because they can't get to an assessment center.
However, while digital and online assessments have the ability to support equality, they can also heighten already existing inequalities, which disproportionately affect students from ethnic minorities and disadvantaged backgrounds.
According to OECD, 95% of students in Switzerland, Norway, and Austria are able to access a device. However, in Indonesia, this number is much lower at only 34%. Location isn't the only factor, family income is also a major cause of inequality. According to research conducted by the University of Cambridge, UK students from higher-income families are much more likely to be able to access the internet, the study found that "only 51% of households earning between £6000-10,000 had home internet access compared with 99% of households with an income of over £40,001".
This digital divide is why educational organizations need to ensure they develop strategies to support those students and ensure that everyone can fully participate. Some practices used during the pandemic to bridge the digital divide are still useful resources today.
Research on Digital higher education: a divider or bridge builder shows how participants from nearly all world regions involved quickly implemented programs to provide laptops to disadvantaged groups, which was anywhere from 15 to 80% of the whole student population. This goes to show how quickly these programs could be mobilized, and that success was most common when laptop provision and broadband access were considered holistically.
Other strategies, such as internet 'hot spots' in parking lots or providing students with USB modems addressed the internet connectivity issues. Partnerships with private sector companies were an additional resource for support, providing free resources to help address access inequality.
Final thoughts
Although internet connectivity is capable of negatively impacting the overall student experience during an online assessment, the benefits of digital assessments outweigh the potential downsides. Academic institutions should focus on:
Understanding the factors that can cause a poor connection and trying to preempt them with guidelines and mindful assessment design
Choosing the right digital and online assessment platform that includes the ability to auto-save progress, work offline and seamlessly sync, and have a failsafe for submitting student exams
Developing strategies to support students affected by the digital divide to ensure that everyone can fully participate.
With all those safeguards in place, the question of internet connectivity should never outweigh the benefits digital and online assessments have for students and academic staff.
Definitions
To ensure clarity and transparency, we have outlined the definitions of frequently used terms in the sector (often used interchangeably). We know academia means precision and strive to provide that to our customers.
Digital assessment: The use of a device by a student to take an assessment.  
Online assessment: A subset of digital assessment, online assessment relates to an assignment or exam taken by a student using a device and then submitted online. Depending on the configuration of the assessment, the candidate may be required to be online for some or all of it.
An online assessment may be remote online, at a location of the candidate's choosing or on-site online, e.g. at the institution's campus.
Written by Ishan Kolhatkar
July 10, 2023
---